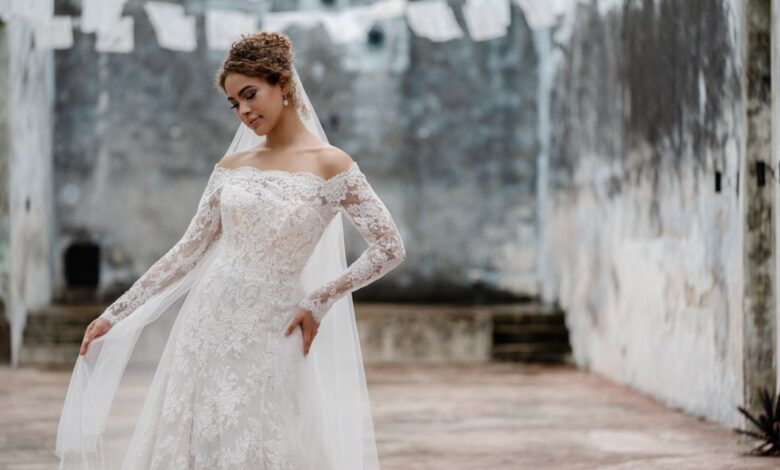 We all experience periods of insecurity about our bodies, and if you find yourself always striving to look really good in your clothes, understanding certain style tricks will help.
If you hate shopping because of how your stomach makes you feel, choosing the right dress for plus size or if you just have trouble finding amazing clothes in general, it might help to know what to look for when shopping. 
What dresses to wear if you have a belly?
Empire dress
Anytime you want to conceal your tummy, an empire-waist dress is a safe solution. Emphasizing the narrowest portion of your midsection by fitting snugly beneath the bust.
Trapeze dress
Dresses that have a silhouette that flutes out after passing the armpit are great for hiding a belly since they don't cling to your shape, and they are also comfy.
Wrap dress
Wrap dresses are an indispensable part of every woman's closet since they look great on everyone. A well-cut wrap dress will fit and flatter at the bust and then skim over the middle.
What kind of dress is good to hide a fat stomach?
Wearing a loose-fitting trapezoid-shaped dress is an excellent technique to conceal a tummy. Dresses with a high waist are also acceptable.
Wearing clothing of a single color is recommended. If you want to seem, fitter, wear darker colors, but that doesn't imply that pastels are off limits. Beige, cream, pistachio, and pastel pink are acceptable color choices. Although the fit of the garments is crucial.
How to hide a stomach bulge in a dress?
Dresses should fit loosely and not cling to the midsection. Dresses that have hanging over the midsection are a common solution.
Dresses that are asymmetrical are also effective because they create a vertical line that draws the eye away from the stomach. Dresses with designs that don't cling might also help disguise the stomach.
8 Ways to hide a belly bulge
Shift the show to your legs
Shift dresses in straight and A-line forms are a traditional and elegant way to hide a muffin top. They were invented in the 1960s and made popular by celebrities like Jackie O and Audrey Hepburn. There is never any cling in the middle since the overall silhouette is always clean, spacious, and stands apart from the body.
Dress in one color
A tried-and-true optical illusion, this one makes even the protruding tummy disappear and works for people of all shapes and sizes. When the top and bottom of an outfit are the same or almost identical, the result is a column of color that reads as a single, uninterrupted line.
Lose your belly in midis and maxis
Your belly's new best friend could be long, flowing skirts. It's excellent for individuals with a fashionista mentality because the entire purpose is complete concealment with a huge bohemian/romantic twist. Avoid variants with belts and go for looser designs with a horizontal seam that is either above or slightly below the waist.
Trim your torso with an open jacket
There are several jacket techniques to reduce belly fat. The breadth of your body at the waistline can be narrowed from the front by framing your belly with a jacket of a different color that is worn open over any shirt, tee, or dress.
Hide your belly with a closed double-breasted jacket
A few different jacket techniques might help conceal a protruding stomach. The first is to wear an open jacket of a contrasting color over any top or dress to make your waist appear narrower from the front. This trick is similar to using theatrical curtains to make a stage set appear smaller.
Untuck your tops
Select untucked tees and polos that are long enough to cover all of your skin without riding up when you sit, stretch, or bend. It will depend on how round you are in the front and middle.
Go big on top, narrow on the bottom
If you enjoy the notion of hiding your stomach but yet want to reveal some form, let opposites attract. With a narrow basis of trim slacks, leggings, or straight or skinny jeans, pair any full-cut top, shirt, jacket, or tunic.
Try a black jumpsuit
Initially a passing fad, this garment is proving to be a lifesaver for ladies with stomach problems. They are essentially long-legged rompers that skim over your middle. If your jumpsuit has an attached belt, you may use it to cinch the waist.
Find the Perfect Dress You Will Love!
Since everyone has a unique body shape, it's important to choose a dress that flatters yours. And if you're trying to conceal a muffin top, flabby stomach, or similar problem area, savvy clothes shopping is your specialty.
You will rediscover a passion for shopping after reading this. With the choices, strategies, and tips mentioned above, you will be able to find your perfect dress and rock it like a true queen.