Business
Why Events Are The Perfect Opportunity To Boost Morale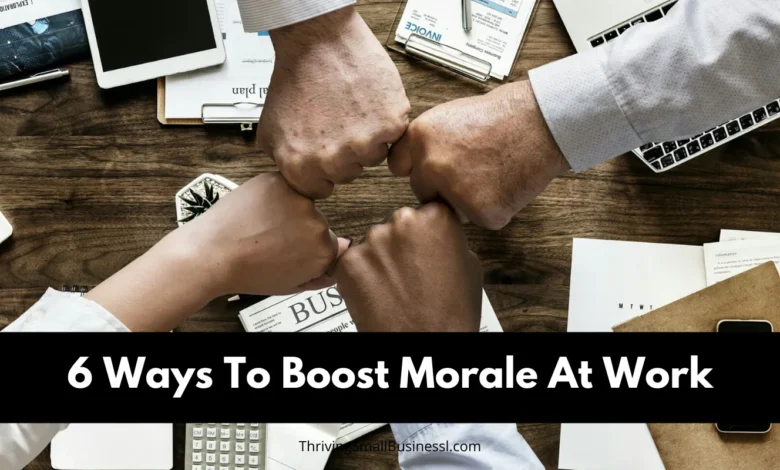 Hosting an event offers the perfect environment to boost the morale of your team. The more positive your team is as a result, the more productive they will be, teamwork will be enhanced and company loyalty will be boosted. Employees want to know that they are valued members of the organization and not just expendable workers.
All types of events can boost staff morale, especially if team members are involved in the organizing and running of the event. Even virtual events, if many members of your team work remotely, can be effective in boosting morale and helping everyone feel included and engaged.
Let's look at how hosting events can boost morale and some tips for event hosting.
Enlist the Help Of Event Planning Companies
Consider hiring the services of a corporate event planner and event management company. No matter what type of event you plan on hosting, enlisting the help of a professional is always going to make the task a whole lot easier.
Helping businesses and corporations organize events is all these companies do, so they've honed their skills and have loads of experience in the field. They also have all the contacts to ensure your next event is as successful and well-organized as possible.
Another thing to note when it comes to event management companies is they are a great source of inspiration and ideas. For example, if you're looking to hold events with the goal being to boost staff morale, they'll be able to share some good suggestions on what type of event will achieve that goal.
Host Team Building Events and Activities
Although team building events may contain certain business goals and activities, these events should always be focused on everyone being interactive and having some fun. Team building activities are one of the most effective methods of building morale and ideas for team building are virtually endless.
Let's take a look at just a few ideas you can utilize for team building and boosting staff morale.
Cooking Masterclass
This type of event could be hosted either indoors or outdoors using a barbecue. Hire one or two chefs to run the class, where members of staff get involved in learning how to prepare and cook sumptuous dishes. It's a lot of fun, is educational and everyone gets to sample their wares after the class.
Make a Short Movie Using Tablets and Smartphones
Putting together a short film doesn't have to involve using loads of equipment. All you have to do is assign various tasks in the movie-making process to different team members. For example, you could have several people working on the script for the short film, a number of people in charge of filming, appoint a director, and actors, and assign the task of editing the movie to someone with video editing experience.
Making a movie is a team effort and when putting together a short film as a bonding exercise, it's a heck of a lot of fun. Anything creative is always going to be interesting and stimulating and it helps people to broaden their mindset and think outside the box.
Organize a Sports Day
Putting together a sports day for a team-building event can often be quite simple, so long as you have a suitable location or venue to host a day of fitness, teamwork, and fun. What sports you decide to include really depends on your budget for the event, the equipment required, available space, and the fitness levels of those who will be participating.
A Weekend Getaway
Close up early on a Friday afternoon so everyone can make their way to the destination you've booked for a weekend getaway for your team. Plan activities to take place over the weekend that is both fun and have a distinct objective.
You won't want the weekend to feel like work, but that doesn't mean you can't have work-related objectives as part of the plan. Developing enhanced teamwork and collaboration, for example, are skills that will invariably benefit the business.
How Events Can Boost Morale In Your Team
Not every event has to be a casual team-building event in order to boost the morale of your employees. Any type of event, whether it be a corporate event, product launch, and so on, has the potential to give your team a much-needed boost.
For starters, simply having a change of scenery or something different to focus on for a while is refreshing, both physically and mentally. It doesn't matter whether it's a casual team-building activity or a corporate severe gathering, working on and being involved in an event is both stimulating and invigorating.
If the event is of a more formal nature, involving speakers, breakout sessions, and other activities, any information being conveyed in a positive way will naturally have an impact on everyone involved, including your employees.
The more involved they are in the event, both the running or it and as a participant, things like communication skills will be improved, confidence will be boosted and more knowledge and skills will be acquired. Employees will experience an increase in their motivation levels and develop more initiative too.
Also, the more engaged your team feels and the more involved they are in the event, the more they feel like they are an important part of the organization. Not only does this boost morale levels, but it also helps to ensure employee retention is good.
Constantly having to advertise for and train new members of staff place an enormous drain on the company and can also prove costly. If you have a great bunch of productive workers, you'll want to keep them.
The Takeaway
If you are looking for ways to boost the morale of your workforce, put together a calendar of events to be held throughout the year, and be sure to include some casual and fun team-building activities. Maintaining a high level of staff morale leads to a more productive workforce and maintaining a team of loyal employees.
For more information, visit our website.